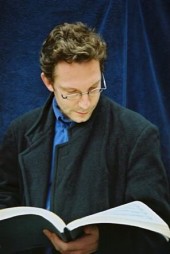 NEIL CROSSLAND – pianist and composer
Yorkshire pianist and composer Neil Crossland began playing the piano at the age of six and studied at the Royal College of Music, where he won major prizes in both piano and composition. Since then he has performed extensively at home and abroad, and written pieces in all genres.
Neil has played at many major London venues, including the Barbican, Queen Elizabeth Hall, St John's Smith Square, St Martin's in the Fields, and frequent appearances at the Wigmore Hall and Purcell Room. He has performed all 32 Beethoven piano sonatas in a concert series at St James' Piccadilly. He has also performed throughout the UK, and in France, Greece, the Czech Republic, the Netherlands and Tunisia.
His concerto performances include Beethoven's Emperor Concerto with the British Chamber Orchestra at the Southwark Festival. He has also been active as a chamber musician, founding the Piano trio "Trilogy" and performing piano duets with his sister Jill.
Neil has made over twenty recordings on the Deltatel label, including the complete cycle of the Beethoven piano sonatas, and works by Haydn, Schumann, Liszt, Rachmaninov, Ravel and Poulenc. Among his other projects has been to revive and record the piano compositions of Astronomer Royal Sir Patrick Moore.
As a composer, Neil is known for his original but accessible style. He has most recently written a Requiem, Op 43 for soloists, chorus and orchestra, other noteworthy works, include the Yorkshire Suite for piano Op. 41, the Variations for piano duet on the Paganini 24th Caprice and the Beethoven Ode to Joy and the Piano trio No 2 'Damage.'
He is also recognised for his ability to write successful transcriptions and convincing works in older styles. In particular Neil has completed and recorded all the seven unfinished Schubert piano sonatas.
Neil has appeared frequently on radio and television, including performing live on BBC Radio 3 and 4.
Back to Home Musicians Students Area